CAMP Nylon Tricam 6 Set
WAS$209.95
NOW $178.46
SAVE 15%!
Sale Ends in
23:59 pm, 5 April 2020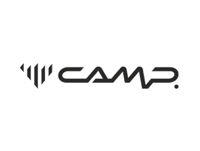 Look on the rack of most experienced trad climbers and you are almost certain to see an assortment of Tricams. These wondrous pieces of pro can be used either as cams or nuts and often work where nothing else fits. Tricams are ideal in horizontal cracks, pockets, and shallow vertical cracks. The larger sizes are an affordable way to augment a rack of cams and are ideal for belay anchors due to their high strength and light weight. Tricams can also be placed in icy cracks where regular cams do not work. Updated for 2013! Our engineers recently spent some time working on one of the ageold questions with the Tricam … how to stiffen the sling without impeding its ability to engage the camming action. After much experimenting, we rested on the simple solution of carrying the inner band of webbing further towards the head and using a new stitch pattern. The result is a naturally stiffer sling that makes one-handed placements easier, but still engages the cam in active mode and will even increase durability over sharp edges with the additional layer of material.

• Two placement modes: active cam and passive chock
• Works where nothing else can fit, such as solution pockets
• Excellent in horizontal cracks
• Updated for 2013, with stiffer sewing on the slings of sizes 0.125 - 2.0 for easier onehanded placement and extraction
Quick Specs
| | |
| --- | --- |
| SKU | CAMP974 |
| UPC / Barcode | 8005436079042 |
| Brand | CAMP |
Reviews
Overall
Rated 4 out of 5 stars. (3 customer reviews)
What do you think of this product?
Share your thoughts with other customers.
I live tricams!

Haven't used mine yet. Always stealing them off mates racks, they fit where nothing else will!!!! If you climb trad, you need tricams! And less than a week delivery to wa the week before Christmas.



Great pro for specific applications

First let me admit- I love tricams. They're a bit strange relative to nuts and cams, but with some ingenuity a tricam can fit some placements better than anything else (particularly pockets) and replace cams in horizontal cracks. The small sizes are particularly useful (pink and red). A word of caution though- tricams focus a large amount of expansion force onto a small point during a fall, with the potential to break soft rock. I don't use tricams in soft sandstone (bluies), but they're good at Arapiles and particularly great on granite.



A set of old school goodness

by buying the set of 6, you save a few dollars on individual tricams. So I bought a set. Tricams have all the benefits of passive pro ... lower cost, rugged, reliable, bomber when placed well, easy to look after, easy to clean. The camming action gives them and advantage over most passive pro in that you can use them in parallel cracks both horizontal and vertical. The downsides are they can be difficult to clean, and take a bit of effort to learn how to place well, don't place as fast as cams, and the small ones won't replace c3's, x4's or master cams. I find them really useful at Arapiles, and use them alot.