Returns Policy


We can happily offer Climbing Anchors credit or a refund on any item returned within 30 days of purchase, at your request, where the returned item is subject to the following:
NOT safety equipment (all ropes, harnesses, carabiners etc)
NOT a clearance item
The item is returned within 30 days from the date of the original order

Is "as new" in appearance, unused and has no signs of wear, tear or damage.

Be packaged in it's original, undamaged packaging with all tags & packaging material

That the item's original packaging is not marked or used as the outer layer of packaging for transport. Please ensure you do not attach anything to the outside of the original packaging e.g. Shoe boxes MUST be placed inside another box or satchel for shipping.

Include your invoice & reason for return, or your shoe return slip (see below)
FREE Shoe returns
To help you purchase shoes online we're offering one free return in case you don't get the sizing right first-time round (conditions apply). All you have to do to redeem the free shoe return is follow the instructions on the slip that arrived with your shoes that looks like this: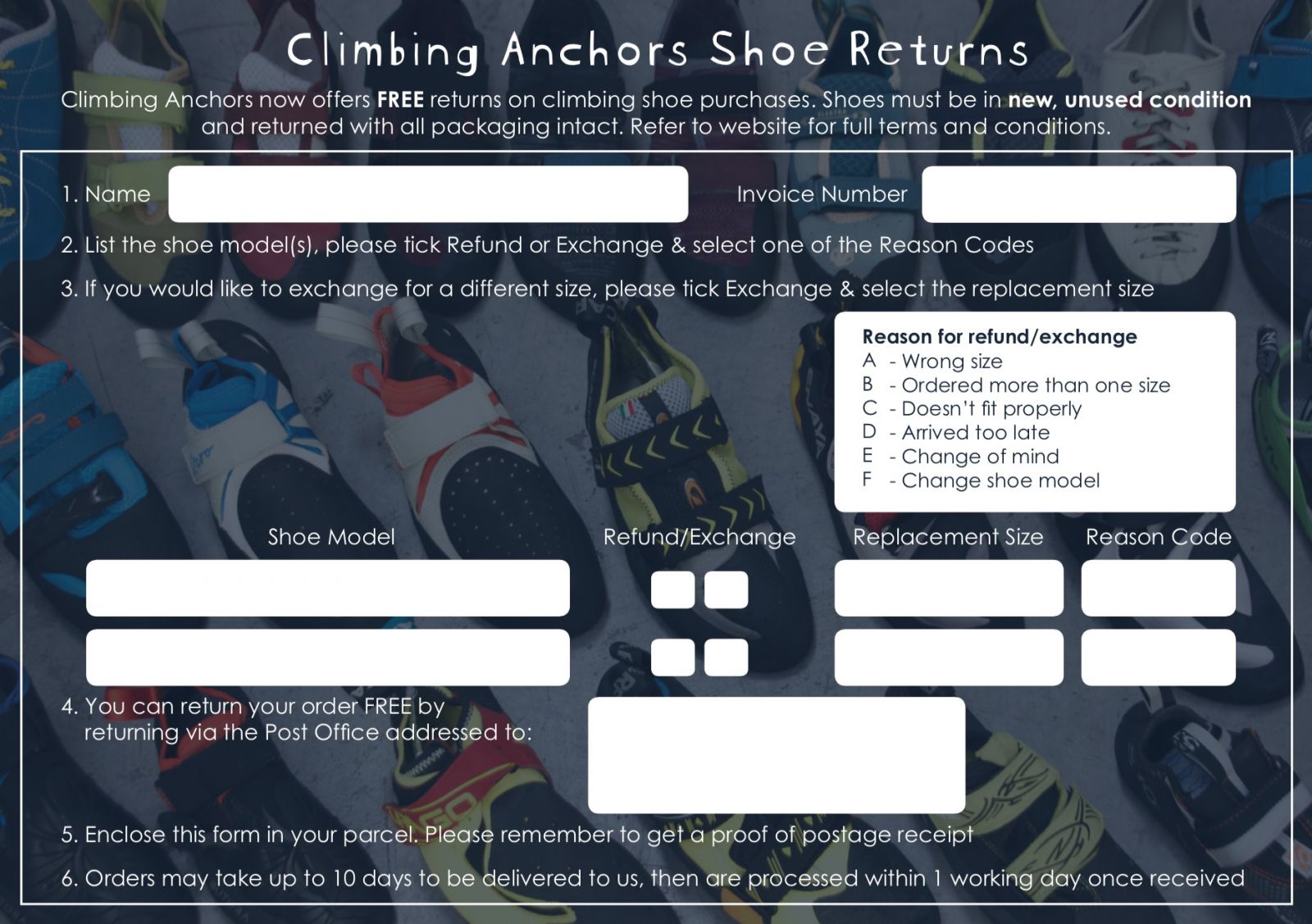 To obtain your free shoe return ensure all criteria at the beginning of our Returns Policy is met or we may decline the return.
NO returns on Safety Equipment
Due to the nature of safety gear on this site we CANNOT accept returns for safety equipment which includes but is not limited to:
- Harnesses
- Helmets
- Carabiners
- Rope
- Slings
- Protection

Please note ALL safety items have this label on the product page:




Why can't I return my Climbing Harness?
Because our customer safety comes first. We're not Ogres, we really don't delight in denying returns on safety gear, and yes, we realise you probably just tried it on and still has the tags on it.
Due to the critical nature of harnesses and the role they play in preserving your life while you climb, we are not able to accept returns or exchanges on harnesses (or other safety gear as above). Our customers need to be assured that the gear they are buying is new and in a safe condition. Once a harness leaves our store, if it gets sent back to us, we can't be certain that nothing has happened to it. Rest assured that all safety gear you buy from Climbing Anchors is in brand new condition, direct from manufacturers & suppliers.

NO Returns on Clearance Items
This is clearly stated on all clearance products:



Please ensure if you are purchasing a clearance item you have sized correctly as we will not accept returns on these items.

Warranties
All items we stock are backed by manufacturer warranties, if an item you've received is defective upon arrival we will cover the return freight. If an item you purchased has developed a fault, please lodge as dispute via the 'Resolution Centre' on this website (see instructions below), we can then assess if the issue is covered by Manufacturers Warranty and offer for your item to be repaired OR replaced.

Process for submitting a return
1. Login to your account and navigate to "Resolution Centre"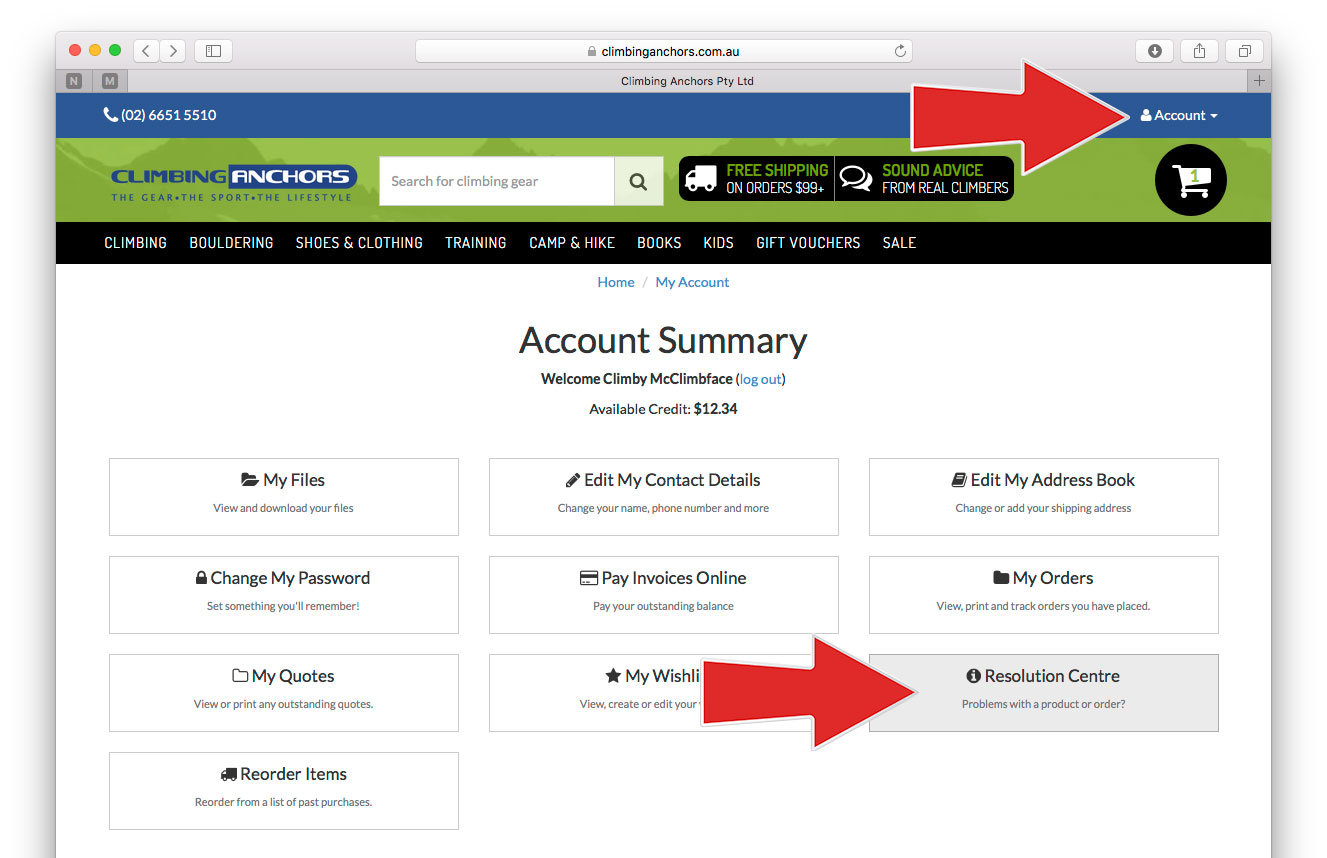 2. Click the button to start a new dispute



3. Choose 'Item Dispute'




4. Choose your return reason and the Order ID of item purchased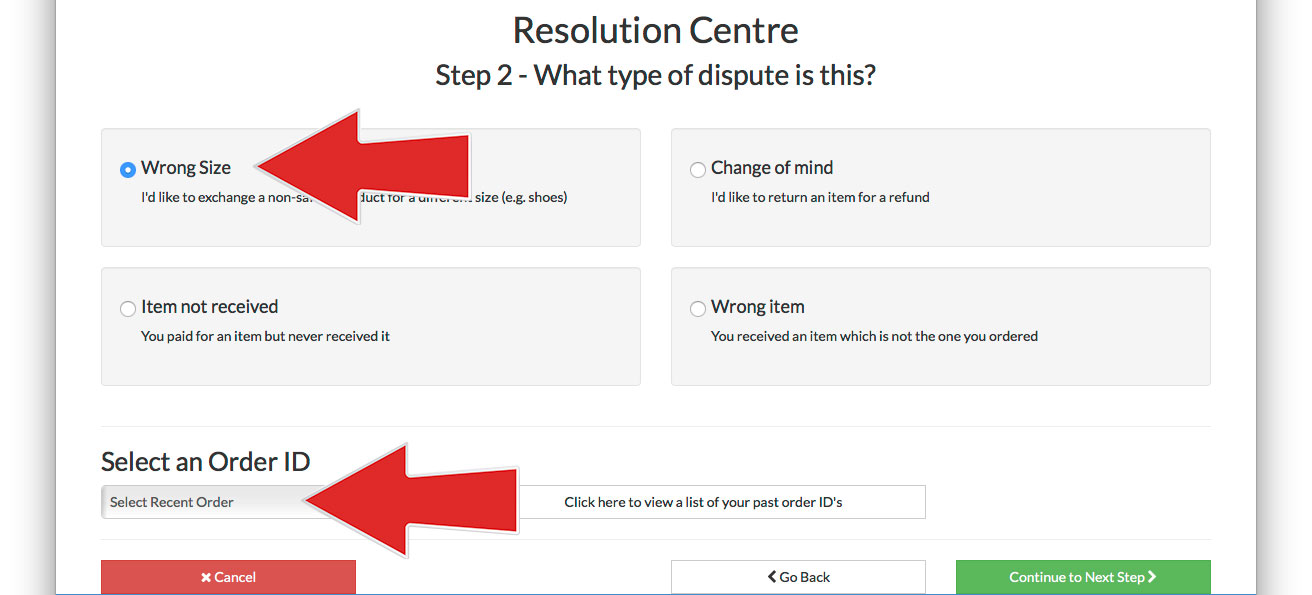 5. Follow the prompts to finish lodging your return
We'll respond once we've verified your return and to provide shipping instructions if required.