Faza Karma Boars Hair Brush
Available Stock: 6
Alexandria 4
Collingwood 2
Alexandria Pickup: 4
Collingwood Pickup: 2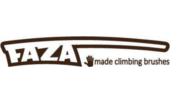 It's all about colours. As Winnie the Pooh said - The More, The Merrier. Functionally they don't differ from the other models, but visually they're just breathtaking. The bond with you will be established on a subconscious level and you'll be puzzled why did you pick one brush instead of another. No matter of the preferred explanation, they'll still be your trustworthy friend both at the boulder and on the rope, and with their end shaped like a screwdriver, will even provide you with an extra tool when rock climbing.

Every brush is unique.

Quick Specs
| | |
| --- | --- |
| SKU | FAZAKARMA |
| UPC / Barcode | 38005002960430 |
| Brand | Faza |
Reviews
Overall
Rated 5 out of 5 stars. (1 customer reviews)
What do you think of this product?
Share your thoughts with other customers.
Next level brush

Pricey, but far and away the most effective brush I've ever used. The bristles and packed in really tight, it just removes so much chalk, so easily! It is a bit chunky though, so it's hard to get into pockets and such. Also, it's very pretty.