Moses Cam Hooks
Available Stock: 8
Alexandria 1
Collingwood 7
Alexandria Pickup: 1
Collingwood Pickup: 7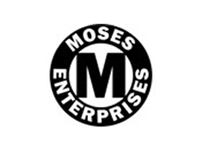 Cam Hooks are used to smoothly make quick progress up cracks. The use of applied leverage transfers bodyweight into holding strength in the rock. Place protection pieces as if you are free climbing. Get past funky placements with clean "finger locks" of metal. Smoothed surfaces around webbing slows wear. Overbent hook with subtly hourglassed tip locks into the rock. Patterned after Ed Leeper's amazing design.
Sling with 9/16″ supertape or 1/2″ tie-off webbing. If using the 9/16″ supertape it helps to cut the webbing with a 45 degree angle on the tip. This aids in feeding it through the hole to sling. If using 1/2″ tie-off webbing inspect the webbing frequently. It wears out fast. 1/2″ tie-off webbing gives you some versatility on how your sling is oriented.
Narrows and Wides are the workhorses of the group. Double up on these to let you do sequential moves. Use this method to climb cleanly and quickly placing pro as if you were free climbing.
Fragile Flake/Extra Wides have less leverage against the rock and are less likely to pull features off. They are made of Aluminum which is softer than steel and "bites" the rock. This action increases holding friction.
Micros allow you to get into smaller cracks and constrictions. Caution: Do not use Micro Cam Hooks in "inverted" placements.
Weight:
Micro: 21 grams
Narrow: 59 grams
Wide: 63 grams
Extra Wide/Fragile Flake: 49 grams
Material:
Micro, Narrow, Wide: Hardened 4130 Cro-Moly Steel
Extra Wide/Fragile Flake: 7075-T6 Aircraft Grade Aluminum
Quick Specs
| | |
| --- | --- |
| SKU | MOSESCAM |
| UPC / Barcode | MOSESCHOOKFF |
| Brand | Moses Enterprises |
Reviews
Overall
Rated 5 out of 5 stars. (1 customer reviews)
What do you think of this product?
Share your thoughts with other customers.
As good as the rock you're placing them in

These things are fast to place, surprisingly solid if the rock is (not sure how they'd go in sandstone but in granite they're good), and fast to clean (like all hooks...).