Climbing Technology Click Up
WAS$84.95
NOW $72.21
SAVE 15%!
Sale Ends in
23:59 pm, 5 April 2020
Available Stock: 1
Alexandria 1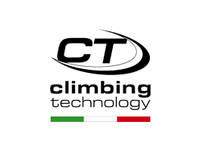 Click Up is an innovative belay device developed for sport climbing. It is simple to use and its innovative design has safety features that prevent mistakes. Easy to use, intuitive and safe, it is extremely lightweight and compact.
It presents many advantages:
it allows you to quickly and fluidly feed rope without jamming;
it allows to arrest a fall simply by pull down the free hand of the rope;
it operates without the need to act on levers and moving parts;
especially suitable for beginners and children because intuitive and error-proof.
TOTAL USE SAFETY! The final, but most fundamental feature, is in the case of incorrect use. Should the device be used incorrectly, Click Up continues to allow you to break and lower your partner in complete safety, thanks to the V-shaped braking notches present. This is the most appreciated feature, as it avoids several mistakes that can happen during the use of belay devices while climbing, both indoors or outdoors. It makes Click Up the right belay device for rock climbing schools and climbing gyms.
Click Up is supplied and must be used with the proper HMS Concept SGL HC, carabiner with hard-coated wear-proof anodization and ACL system that prevents the possibility of the cross loading.
Patented and entirely produced in Italy.
Following the natural trend of the companies to produce thinner and lighter EN 892 dynamic ropes, we decided to update the marking of our belay device Click Up. Several internal tests proved that Click Up works perfectly with single ropes Ø 8.6 mm. No modification has been carried out on the device, therefore all the Click Up already existing and sold can be used with single ropes from 8.6 to 10.5 mm.
Ø 8,6 ÷ 10,5 mm
115
Quick Specs
| | |
| --- | --- |
| SKU | CTCLICK |
| UPC / Barcode | 8056734832501 |
| Brand | Climbing Technology |
Reviews
Overall
Rated 4 out of 5 stars. (3 customer reviews)
What do you think of this product?
Share your thoughts with other customers.
went back to ordinary belay device

Used once, went back to ordinary belay device. It works well, but I'd rather not fuss around.



Great Device, Bargain Price

Been using the click up now for two trips. I highly rate it. Does everything so well. Only thing I have found is sometime it 'locks' when feeding slack really quickly, but im pretty sure I just need to get used to it. If you top-roping with it, you can leave it in the 'lock' position and just keep pulling in slack.



best sport climbing belay device ever

Light Easy to feed and take up slack Compact No moving parts Only problem: my climbing partners are borrowing it all the time!