Awesome Woodys Cliff Board MINI
Available Stock: 10
Alexandria 4
Collingwood 2
Lane Cove 1
Warehouse 4
Alexandria Pickup: 4
Collingwood Pickup: 2
Available in Lane Cove Mini store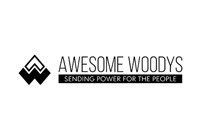 Please note colour selections are preferences, not guarantees. If you definitely need a particular colour, please call us or request in delivery instructions.
The Awesome Woodys™ Cliff Board Mini™ is the smaller version of its big brother. It's versatility as a finger board to climbers is amazing. This 2 sided fingerboard is also full of useful features while being compact and totally portable. The Cliff Board Mini™ has a unique design and with 2 cord positions that change the pitch of the board. This turns flat edges into in-cuts and regular pockets into slopers. The Cliff Board can be hung anywhere you can throw a single sling or clip a single carabiner to.
The Cliff Board Mini™ not only delivers climbers a solid workout at home, it is the ideal tool for a progressive warm-up at the cliff. Just unclip it from your home setup, stash it in your pack and hang it at the cliff. A great tool for recruitment and getting those fast twitch fibres primed for your project of the day.
Weighing in at around 550 grams and about half the size of the screen of a lap top, it measures 340 mm x 135 mm its light and totally portable. The Cliff Board Mini™ is perfectly suited for traveling climbers or climbers who often work away from home and want to stick to a training routine.
With precision wood machining your Cliff Board Mini™ offers a good variety of holds, edges and pockets for you to systematically work through our finger strength routine. Each Cliff Board™ comes with comprehensive instructions and two workout programs for beginners to advanced.
Train upper body strength and power on the large positive top rung. Work finger strength on the 2 and 3 finger pockets. Isolate finger strength on the deep mono pockets. Train your open hand crimp and half crimp on four different sized rails on the front, and the beastly sloping rail on the back.
Hand made in Australia from plantation timber the Cliff Board™ is super friendly on your skin and the environment.
I recommend this finger board to:
Traveling climbers.
Climbers who want a progressive warm up at the cliff.
Climbers who work away from home.
Climbers who cant have a permanent fingerboard set up.
Any climber who wants to stick to a training routine.
Quick Specs
| | |
| --- | --- |
| SKU | AWCLIFFMINI |
| Brand | Awesome Woodys |
Reviews
Overall
Rated 5 out of 5 stars. (2 customer reviews)
What do you think of this product?
Share your thoughts with other customers.
The perfect training tool on the go

I use this thing about twice a week on my cycle into work - I warm up on the ride, then do an upper body/core circuit. I've taken it on holidays once too and it's a ripper: so small and light and helps me build strength on the go (and also not lose too much on holidays). Just make sure you warm up properly! Only downside, it's very hard to use the 2-3 finger pockets due to the angle of the board when hanging.



Cliff mini

This board is perfect for warming up at the crag but even better for travelling . Being so small and light I don't even notice it in my luggage .