Tendon Master 9.4 Complete Shield
Available Stock: 1
Collingwood 1
Collingwood Pickup: 1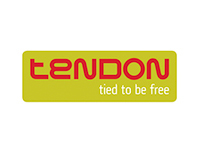 An excellent single rope with low weight, great technical parameters and SBS construction of the sheath, which makes the rope not only more resistant to abrasion, but also soft and easy to manipulate. The best choice for both long trad and sport climbing.









| | | | | | | | |
| --- | --- | --- | --- | --- | --- | --- | --- |
| Sheath slippage (%) | 0 | Rope diameter (mm) | 9.4 | CE 1019 | yes | EN 892 | yes |
| Max. impact force (kN) | 7 | Number of UIAA falls min | 5 | Dynamic elongation (%) | 37 | Static elongation (%) | 6.2 |
| Weight (g/m) | 58 | Number of UIAA falls max | 7 | Knotability | 0.9 | | |
Complete SHIELD
In addition to the standard finishing against water and abrasion, the sheath and CORE of the entire product is treated with the TENDON NANOTECHNOLOGY surface finish. Using the new progressive method of surface finishing called NANOTECHNOLOGY, TEFLON® EVO in the form of very small particles is applied to the rope sheath and very effectively prevents penetration of water, dust and other particles into the rope sheath which means that the water resistance and the abrasion resistance of the ropes are increased.
Quick Specs
| | |
| --- | --- |
| SKU | TM94D |
| UPC / Barcode | 8590869260995 |
| Brand | Tendon |
Reviews
Overall
Rated 5 out of 5 stars. (1 customer reviews)
What do you think of this product?
Share your thoughts with other customers.
An excellent rope.

I bought this to be my light "sending" rope a year ago, but it's so nice that I use it for everything. The low weight is great, and I absolutely notice the difference compared to a 9.8 or 10.0 mm cord, particularly on longer pitches. This rope handles nicely as well, is a pleasure to clip, and moves through a gri-gri well (but still catches in a fall). The low impact force is noticeable during falls, as the catch is nice and smooth. This extra dynamic nature of the rope means that you have to be a little careful when there is a lot of rope out, as it stretches a lot (i.e., keep a tight toprope when the climber is close to the ground). After a year of hard service (2-3 days per week), it is showing quite a lot of wear and it's time for a replacement. Given that I use it pretty hard and it's a skinny rope, I'm happy with this level of longevity. Importantly, the rope maintained its nice handling throughout its life; it did not stiffen up and become a cable as it aged. I highly recommend this rope! However beware the orange colour- it is aggressively bright. It is avert-your-eyes bright.