Tendon 9mm Static Price/Metre
Available Stock: 10+
Alexandria 119
Collingwood 228
Warehouse 203
Alexandria Pickup: 10+
Collingwood Pickup: 10+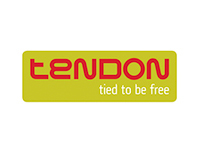 This excellent rope with low elongation and high static strength is intended primarily for work at height and for securing people above vertical drops. The thicker the diameter, the stronger the rope.





Technical data
| | | | | | | | |
| --- | --- | --- | --- | --- | --- | --- | --- |
| Shrinkage (%) | 2.1 | Rope diameter (mm) | 9 | CE 1019 | yes | EN 1891 | yes |
| Tenacity (kN) | 23 | Number of falls (min) | 20 | Relative Mass of Sheat (%) | 49 | Used Material | PA |
| Weight (g/m) | 50 | Elongation (50-150kg) (%) | 3.8 | Sheat Slippage (mm) | 2 | Min Tenacity with knots (kN) | 13 |
STANDARD
Improved basic finishing of dynamic ropes. The new technological process enables the application of impregnation agents early in the standard finishing of the ropes. The result is an excellent water resistance and abrasion resistance as well as extended lifespan of TENDON ropes.
Quick Specs
| | |
| --- | --- |
| SKU | TS9 |
| UPC / Barcode | TS9 |
| Brand | Tendon |
Reviews
Overall
Rated 5 out of 5 stars. (2 customer reviews)
What do you think of this product?
Share your thoughts with other customers.
Great handling static rope for building anchors

I purchased 20m of this rope for rigging top rope anchors at my local crags, it has been perfect for the job and after many weekends of abuse it is still going strong showing little signs of wear. I have set up anchors using other brands of static owned by my friends and the Tendon handles much better! Highly recommended!



Tendon 9mm static rope (used for canyoning)

Ive been using this rope for close to two years and must say its one of the best Ive ever used. Im a full time canyoning guide and have used the 9mm static almost daily for two seasons and have seen it outlast several other brands by months used the same way. Its tight weave makes it durable on nasty rock (Ive used it on granite, shist, limestone, sandstone and basalt)and also seems to reduce the amount of water it soaks up which helps keep the weight down. During a recent trip to Reunion Island the three team members carried 110m each of the Tendon 9mm static for most of the larger trips and found it very easy to use and even after a big day of swimming the weight only increased slightly. If your after a nice all round rope for canyoning or other rope sports Id put this at the top of my list.