Butora Sensa
Available Stock: 2
Alexandria 1
Collingwood 1
Lane Cove 1
Alexandria Pickup: 1
Collingwood Pickup: 1
Available in Lane Cove Mini store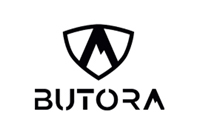 These shoes are a clearance item so please choose carefully. Clearance items cannot be returned due to change of mind or wrong fit. If unsure please feel free to visit one of our stores to try on these shoes before purchasing, please note their sizing runs quite small, most people go at least two sizes up from their normal climbing shoe.
The new slipper from Butora Climbing is anything but an old school sock! Each and every possible contact area where the shoe meets the rock has been fortified with a midsole and the right rubber for the job. At the same time, the areas in the midfoot have been strategically designed with softer rubber to allow your foot full range of movement in the toughest of conditions. Here is the breakdown of the features that make this shoe more than your old school sock:
1. NFS Toe Cap Technology

- We use Butora's Neo Fuse rubber on this area of the shoe that receives the most use. We have added a toe cap midsole to increase durability and prevent your toe from pushing past the front edge of the shoe. The toe cap midsole stops at the toe to allow the rest of the shoe to move in the way a classic slipper would.



2. Heel Design

- We also use NEO Fuse rubber on this area that is used most often after the toe. We created a slightly rounded, but not overly rounded heel with a heel cap midsole for durability and multi-directional heel hooking.



3. Toe Hooking Strips

- We offer slightly softer NEO Fuse rubber on this portion of the shoe, because we do not toe hook as often, but when we do we need it to stick. We also use softer rubber here because this area needs to maintain its flexibility for the comfort of your foot.



4. Knit Fabric Upper

– The difference in the knit fabric you find in this shoe and others is that the upper in this shoe is woven for each shoe as opposed to die cut. The problem with die cutting is that you have one fabric cut for several sizes, and it tends to fray on the interior of your shoe over time. While the woven technology in this shoe is much more expensive than die cutting, at Butora, we believe in the highest value for our customers with the most innovative technology in the industry. This woven fabric has all the breathable aspects of other knit fabrics with the additional upgrade of a woven construction.
The Butora Sensa…..more than your old school climbing sock!
#morethanasock
Quick Specs
| | |
| --- | --- |
| SKU | BUTORASENSA |
| UPC / Barcode | 6923369063230 |
| Brand | Butora |
Reviews
Overall
Rated 4 out of 5 stars. (2 customer reviews)
What do you think of this product?
Share your thoughts with other customers.
Great price - just be ready for some blisters as y

I tried these shoes several times cos I really wanted a pair of slippers to train in and when these went on Sale ($125 at the time of writing, down from $209) and I found myself with a balance of gift cards I figured why not? I have wide feet so I had to size up a size and a half to find a really snug, but not overly uncomfortable fit with these. Main reason is while the fabric is quite soft and breathable - the rubber around the toes is extremely hard and I found out one of my toes sticks out a tiny amount (I literally didn't know it did until I started climbing in these shoes) and it rubbed like crazy. I feel like once worn in and once the rubber has had time to soften and mold to my feet they will be very comfortable - but do be aware that if you are sizing down for a really tight fit that your feet will suffer in these, maybe more so than other similar shoes. On a positive note, these shoes have killer power through the toes and I felt really confident with edging and more precision moves. The heel has a really interesting texture and was great for hooking, if maybe not the most sensitive heel but I don't mind a thick heel patch. Toe patch is also amazing and feels really solid toe hooking on some overhang style climbs. TL:DR Size these carefully, if you've got wide feet like me then go up a size or more - but they're a great performance shoe for a pretty hard to refuse price right now.



situational

I found the toe part to be super uncomfortable. The ribbed rubber for the top of the toe constantly digs into your toes but also provides a killing toe hook strength. Good for short agressive climbs but if you're going to have along day of climbing prepare for blisters until the calluses grow.