Awesome Woodys Elephant Balls
Available Stock: 2
Alexandria 1
Collingwood 1
Alexandria Pickup: 1
Collingwood Pickup: 1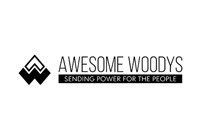 Each Pack includes a PAIR of balls so you can train both hands at once!
Awesome Woodys™ Elephant Balls™ are the best training tools on the market for working open-hand grip strength and upper body power. They come in three sizes, 80 mm, 90 mm and 100 mm in diameter for small through to larger hands and provide an excellent radius for open hand strength training.
From slope to pinch strength and core exercises, Elephant Balls™ are simple in design but are an advanced rock climbing training tool that offers greater strength and power gains than your standard hanging tools.
The 2 knots in each cord allow the Elephant Balls to be hung in an off set position for use in off set hangs and pull-ups. The lower knots are adjustable alpine butterfly's. The three guide lines (shallow groves) allow for a little extra grip but, are used as a reference point to grip the ball in exactly the same position for each repetition. Used efficiently you will see gains in both power and strength to give you confidence with pinches and those evil slopers on rock!
Hand made in Australia from renewable plantation timber they are a challenging training tool while being skin and environmentally friendly.
Every set of Elephant Balls™ come with a guide sheet and two separate training programs to get you off the ground.
What size do I buy?
I suggest Large if
I have small hands or I'm new to climbing/training for climbing.
I suggest X Large if
I have average to large hands and I can manage V5 boulders
I suggest Jumbo if
I have hands as big as dinner plates or I'm a beast but I want to squeeze another 5 percent out of my training.
Quick Specs
| | |
| --- | --- |
| SKU | AWELEPHANT |
| Brand | Awesome Woodys |
Reviews
Overall
Rated 3 out of 5 stars. (1 customer reviews)
What do you think of this product?
Share your thoughts with other customers.
Gotta have wood

I ordered the large 80mm and the mammoth 110mm. Wood is fantastic, love wood. There are three main problems I've experienced. 1. The balls are not round. 2. The balls are not the same size. returned one set, new set were just as bad. 3. The knots in the cord are at different heights. I think that when you are paying a premium price you expect the little things to be better done. It looks like they are turned and tied by hand with no jigs or preset marks, every ball is different which is a problem when they work in pairs. Ended up ditching the cord and went and bought some eye bolts and stuck them through the holes, set them up exactly the same lenght and if i want to do off sets I'll hang one off a draw. I still gave them 3 stars because they are a grreat training tool just needs to be done better.