Awesome Woodys Cliff Board
Available Stock: 6
Alexandria 3
Collingwood 1
Warehouse 2
Alexandria Pickup: 3
Collingwood Pickup: 1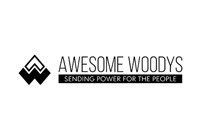 Please note colour selections are preferences, not guarantees. If you definitely need a particular colour, please call us or request in delivery instructions.
The Awesome Woodys™ Cliff Board™ is the most versatile finger board available to climbers. This 2 sided fingerboard is packed with useful features while being compact and totally portable. The Cliff Board™ has a unique design and with 2 cord positions that change the pitch of the board. This turns flat edges into in-cuts and regular pockets into slopers. It can be hung anywhere you can throw a single sling or clip a single carabiner to.
The Cliff Board™ not only delivers climbers a solid workout at home, it is the ideal tool for a progressive warm-up at the cliff. Just unclip it from your home setup, stash it in your pack and hang it at the cliff. A great tool for recruitment and getting those fast twitch fibres primed for your project of the day.
At around 940grams and smaller than a laptop screen at 340 mm x 210 mm, the Cliff Board™ is also perfectly suited for traveling climbers or climbers who often work away from home and want to stick to a training routine.
Train upper body strength and power on the large positive rungs and holds. Work finger strength on the various 2 and 3 finger pockets. Isolate finger strength on the deep mono pockets. Train your open hand crimp and half crimp on four different sized rails on the front, and the beastly sloping rail on the back.
Hand made in Australia from plantation timber the Cliff Board™ is super friendly on your skin and the environment.
The Cliff Board™ is a priceless training tool for climbers.
I recommend this finger board to
Climbers who want portability with their training.
Climbers who cannot have a permanent set up at home.
Climbers who travel for work
Climbers who want a progressive warm up at the cliff
Traveling climbers
Quick Specs
| | |
| --- | --- |
| SKU | AWCLIFF |
| Brand | Awesome Woodys |
Reviews
Overall
Rated 4 out of 5 stars. (1 customer reviews)
What do you think of this product?
Share your thoughts with other customers.
Is wood, is good!

Basic design, well built, versatile. A little bit pricey for a simple design, but having said that, I also own a Beastmaker 1000, and I can do a similar workout on both boards. This compliments my Beastie well beacuse I have the Beastie setup at about a 20 degrees overhang, and the Cliff Board hanging about 50 cm bellow. The Cliff Board hangs vertically, and the pockets are alot different to the Beastie. They are mostly, 2 or 3 fingers and for me either 1st pad, or a bit deeper to 1st knucle. The monos are a little deeper again. The pockets have been well laid out so as you can utilize 1 pocket, or multiple pockets per hand. Mine only has 1 rail below the pockets, and it is small and sloping. The board is reversible, and I have mine setup on a simple swivel so I can spin it 180 mid workout. The 4 rails on this side are fairly easy to use, not the smaller ones offer good grip despite their size. The Top juggy rail is best used offset by another hand on a lower rail, or you will get the death wobbles. This is the only time you really notice that it's only hanging from 1 anchor point. I also have some Cannon Balls in my setup (metal versions of Elephant Balls), and they offer yet another grip I can work between when playing fingerboard.